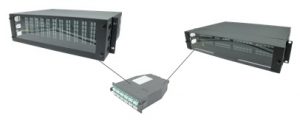 Data center solutions adopt miniaturized high-density connectors and ultra-small OD cable. 1U height of the wiring space can accommodate up to 96 LC Fiber ports; To ensure that the data center infrastructure cable channel and the maximum density inside the cabinet, and double the cable port density, comparing with the traditional solutions. The required number of cabinets will be reduced by half so that it will save space and cost.High density
The current cloud computing and big data are more and more fiery. With coming era of 40 / 100G network , the data center needs more and more physical space; Operators will pay more attention the elements of device density. MPO / MTP * cabling It's an ideal solution for data center with its high-density cabling, high performance and quick installation.
This high-density fiber pre-terminated system can help us to deploy the high- density data center easily, quickly and horizontally. It is also very easy for the maintenance and expansion in the future.
High performance
The high performance and high stability of MTP * / MPO solution is satisfactory in the data center performances. Due to the adoption of bend- bright fiber module, the insertion loss is 0.5dB. So the deployment for TIA- 942 and IEE802.3 systems supports multi-point crossover capabilities.
All MTP * / MPO cable termination is completed in factory so as to ensure the consistency of product quality. Performance testing and application are in line with international standards, and higher that that standards. All the wiring system is modular and independent.
High scalability
Adopted MTP * / MPO solutions is able to support future network applications, to avoid re-cabling for network equipment upgrades.
Data Center cabling system products are modular design. This modular solution is very conducive to re-configurate the data center and expansion on-demand. When additional equipment are needed continuously, plug-and- play modules and fan-out patch-cords can achieve the rapid installation without switching off the data center. Thus it reduces the initial investment costs significantly and the costs for expansion construction and downtime.